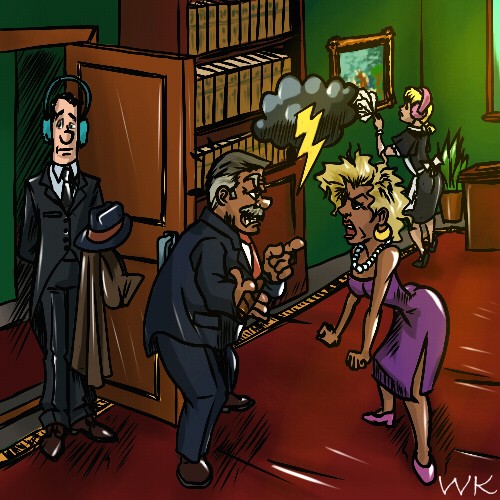 Domestic Staff: The first domestic staff agency to specialize in deaf domestic staff. The...
...agency recruits deaf people, trains them, finds employers for them, and provides a way for employers to hire them. [A deaf domestic staffer would literally be a "silent servant" who "hears no evil." He or she wouldn't talk and could not "listen at the keyhole." Something that their employers will be happy to tell their guests. "Don't worry about talking. All my servants are deaf."] Deaf people who can read lips could become butlers/housekeepers who communicate verbally with their employers and then communicate with the rest of the deaf domestic staff in sign language. [This would turn a handicap into a sought-after asset. It could even have snob appeal as those who employ deaf domestic staff feeling they are better than those who employ hearing domestic staff. It wouldn't be surprising that deaf domestic staff would earn considerably more than hearing staff because of this "dis"-ability.] To win this challenge, the staffing agency must place at least 100 deaf people in full-time domestic staff positions.
Future Challenges:
First above domestic staffing agency to:
1) Place 1,000 full-time domestic staff who are deaf.
2) Place 10,000 full-time domestic staff who are deaf.
3) Be the focus of a weekly reality TV show.
Discussion:
If you would like to discuss this challenge with others, click
here
to go to this challenge's discussion forum.