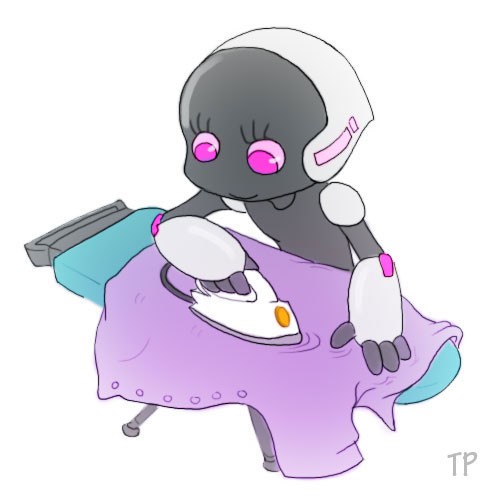 Drycleaning: First to automate the checking of clothes for objects in their pockets, removing those...
...objects, putting them into a plastic bag, and setting aside the bag to be added in a package with the clothes at the end of the process. [This automation could "simply" detect all pockets and then turn them inside out over a collection container that then drops its content into a plastic bag that is then labeled, sealed, and delivered to the point in the process as outlined in Future Challenge #15 below.] To win this challenge (and Future Challenges #1 through #18), the program must include a learning algorithm, must transmit at least once per operational day what it has learned to the company that developed the program, and download updates from that central server.
Future Challenges:
First to automate:
1) Identifying when pants and shirts have not been turned inside out and then turning them inside out.
2) Separating clothes into whites and colors.
3) Checking garments for dry-cleaning compatibility, including fasteners.
4) Enclosing delicate fasteners with a small padded protector.
5) Identifying fragile items.
6) Enclosing fragile items in a loose mesh bag.
7) Identifying stains and spot-spraying, steam jetting, or soaking in stain-removing liquids as needed.
8) Loading clothes into washer.
9) Extracting clothes from washer and transporting them to dryer.
10) Loading clothes into dryer.
11) Extracting clothes from dryer and transporting them to next work station.
12) Ironing pants.
13) Ironing shirts.
14) Folding all clothes not put onto hangers and packaging them.
15) Placing clothes on hangers, covering them with a plastic bag, and putting the hangers on the conveyor belt with proper identification attached to exterior of the plastic bag. Also adding to hanger the bag containing any objects found in pockets at the beginning of this process.
16) The whole dry-cleaning process.
17) The whole dry-cleaning process for a commercial dry-cleaning business.
18) An entire chain of dry-cleaners (10 or more locations).
First fully-automated dry-cleaning system to be installed in/on a:
19) Hotel.
20) Hotel chain's entire chain of hotels. Must have at least 100 hotels in chain.
21) Military aircraft carrier.
22) Nation's entire fleet of aircraft carriers. Must have at least three aircraft carriers in their navy.
23) Passenger cruise ship. Ship must be able to have at least 200 cabins.
24) Cruiseline's entire fleet of cruise ships. Cruiseline must have at least twenty cruise ships.
25) Apartment complex.
26) Private residence.
Discussion:
If you would like to discuss this challenge with others, click
here
to go to this challenge's discussion forum.