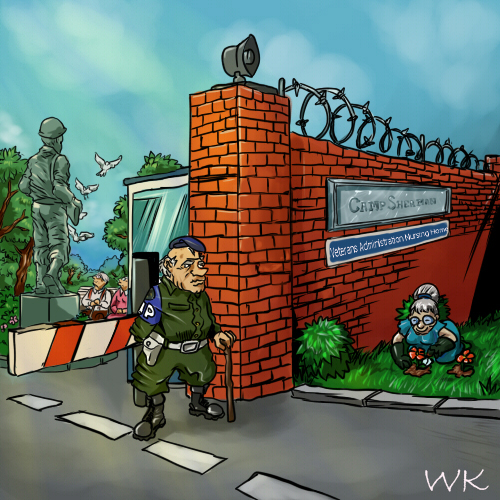 Nursing Homes: All decommissioned and no-longer-needed military bases are turned over to the...
...Veterans Administration to be cleaned up and renovated into free nursing homes for veterans. Veterans get first shot at any job at these nursing home bases. The American Legion and Veterans of Foreign Wars (VFW) are permitted to lead this effort. The two groups can raise donations for the necessary clean-up and renovation and then come in and do the necessary work voluntarily. [While civilians might have a problem spending their last years on an old military base, most veterans would not only not mind it but would view it as a positive: as former military bases, the nursing homes will have security fencing all around them and thus will be some of the most secure and safe retirement communities around. And by using these discarded bases, the VA is saved from having to build new facilities to care for veterans needing nursing home care.]
Future Challenges:
1) First TV documentary to document the converting of an old military base into a nursing home for veterans.
2) First TV reality show that, each season, documents the conversion of a single decommissioned military base into a VA nursing home by the American Legion and/or Veterans of Foreign Wars. [This series would be suitable for a variety of cable TV channels such as DIY, Military Channel, National Geographic Channel, Retirement Living, and TLC.] To win this future challenge, the TV show must have finished and aired its entire third season.
Discussion:
If you would like to discuss this challenge with others, click
here
to go to this challenge's discussion forum.