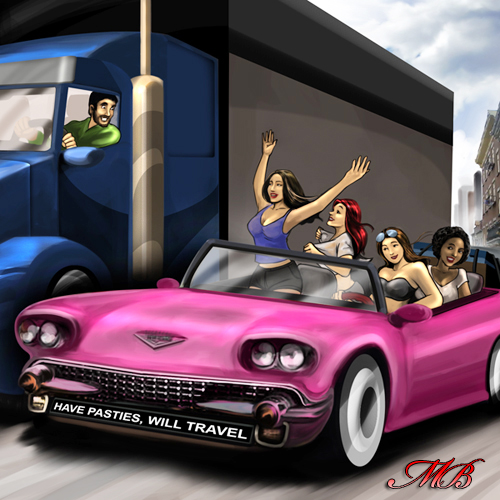 Stripclubs: First association of independent stripclubs that only feature traveling dancers and no...
...local dancers. The traveling dancers can only work for clubs of the association for one week and cannot work for the same club again or another association club within 75 miles of that club for at least three months. Additionally, if the club is part of a chain (such members being called "associate" members since they're not an independent club), the traveling dancer cannot work for another club in the chain for at least a month.
The club must provide free housing for ALL of the traveling dancers for the week they work for their club. The housing must be in the form of a hotel or motel that only houses the dancers. Only one dancer can be housed in each hotel/motel room and either each hotel/motel room has its own
kitchenette
or each hotel/motel building must contain a large communal kitchen (possibly a converted hotel/motel room and containing at least two stoves) that the dancers can use and each of their hotel/motel rooms must have its own regular-size refrigerator. Each hotel/motel must have 24/7 security guards to protect the dancers from stalkers and people who would prey upon them. The hotel/motel does not need to be on the same compound as the stripclub [and it would probably be a good idea for it to be at least a few miles away]. If the hotel/motel is not located on the same compound as the stripclub, the club must provide free shuttle service to get the dancers to and from the club [which the club will benefit from by this ensuring the dancers show up for work and their cars don't take up parking spaces that could be taken by patrons. The dancers will appreciate it as it will save them gas, not expose their cars to vandalism by drunk patrons, and reduce the chance of stalkers following them to where they're staying.]
To win this challenge, the association must have at least 12 club members on the same continent and none of the twelve can be within 75 miles of each other. [This enables traveling dancers to work continuously on that continent by rotating every week amongst them.] The association must also have a website that lists all of their members and provides a way for registered-with-website traveling dancers to contact club members to book weeks with them. Once a dancer is registered with the website, they can also view more extensive profiles of the club and their housing facilities. The association website must enable registered traveling dancers to set up their own profile page that only club members (and not the general public) can access. Behind the registration wall, the dancer profiles must have a way for club members to see if other association clubs have banned the dancer from ever working at their club again so they can be forewarned. Likewise, behind the registration wall, the dancers must have a way to see if other dancers have publicly said they will never again work for a particular club so other dancers can be forewarned.
[Currently, many stripclubs are being hit with lawsuits by their house dancers where these local dancers are charging that they are not independent contractors but employees of these clubs. Though not always, the clubs are commonly
losing these lawsuits
. If a club were to operate as outlined above, there would be no question that the dancers working for their club are independent contractors.
Another benefit is how the hotel/motel will save traveling dancers money by providing them free housing.

Still another benefit of the above is that it would ensure that all the dancers at a club are new every week and this is something that many patrons will like and will likely cause them to come into the club at least once a week to see the new dancers. This increased traffic will help both the club and the dancers.]
Future Challenges:
First above association to have at least:
1) Twelve club members on another continent. None of the twelve can be within 75 miles of each other.
2) 12 club members on a third continent. None of them can be within 75 miles of each other.
3) 100 club members world-wide.
4) 1,000 club members world-wide.
5) Annual conventions in North America, South America, and Europe. The conventions must be evenly spread throughout the year. [Thus if there are only three such conventions, one would take place every four months.]
First association club to offer at their hotel/motel a:
6) Swimming pool with a privacy wall around it. [This way dancers can sunbathe topless and nude without peeping Tom bothering them, violating public decency laws, and/or upsetting the neighbors.]
7) Free laundry room.
8) Work-out room. The work-out room having at least six cardiovascular machines and an all-in-one weight machine. The work-out room can be a converted hotel/motel room.
9) Free tanning machines in a separate room. The room can be a converted hotel/motel room.
First radio or Internet talk show hostess, who is a traveling dancer and does her show on the road, to champion this challenge and:
10) Gets at least twelve stripclub owners to individually appear on her show to discuss forming up such an association.
11) Gets the president of a group of at least twelve stripclub owners to come onto her show and officially announce that they are forming such an association as outlined in the original challenge.
12) Airs her show live from each club of an association, as outlined in the original challenge, while she also performs there as a dancer. She must air her show live from all the clubs of such an association to win this future challenge.
13) Same as Future Challenge #12 but on a different continent.
Discussion:
If you would like to discuss this challenge with others, click
here
to go to this challenge's discussion forum.